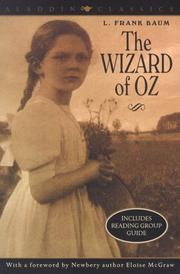 Title: The Wizard of Oz
Author: L. Frank Baum
Published: 1900
Genre: Classics; Satire
Pages: 198
Rating: 3/5 stars 1939 movie: 4/5 Tin Man: 5/5
Reading Challenges: Mount TBR; Classics -- 19th Century ; Book2Movies
How I Got It: I own it!
Dorothy thinks she is lost forever when a terrifying tornado crashes through Kansas and whisks her and her dog, Toto, far away to the magical land of Oz. To get home Dorothy must follow the yellow brick road to Emerald City and find the wonderfully mysterious Wizard of Oz. Together with her companions the Tin Woodman, the Scarecrow and the Cowardly Lion whom she meets on the way, Dorothy embarks on a strange and enchanting adventure.
I read this slim novel way back in elementary school and loved it. So this is a reread for me. And I have to say that I'm disappointed. I still love the storyline. I love the different lands that Dorothy and her friends travel to. I especially love the Emerald City. It's a fun interesting little story. But then I look at the writing and I am sorely disappointed. It's just a badly written book. Every paragraph feels stilted. I'd rather pick up some Chopin or Dreiser or Lewis or Tolkien. Oh well...
1939 Movie Version:
I loved this movie as a child. I loved the glittering colors, the fanciful characters, and the singing. Rewatching this as an adult, I still love this movie. Although it is a far cry from the book. My favorite scene has to be the tornado. It's amazing to think that in 1939 they could pull off something that gorgeous. It boggles my mind. My favorite character is the Wicked Witch of the West. I'm glad they decided to expand her character from the book. She has some of the best lines.
Scifi Version Tin Man:
An interesting updated version of Wizard of Oz. Zooey Deschanel is just amazing, but then again I allows love her. And the sets are just gorgeous. Can we talk about the costumes? The sorceress Azkadellia's fantastic costumes are a treat to behold. I love that DG wears Dorothy's 1939 dress as a waitress uniform. The idea of a Dorothy or DG lost outside her world is an interesting one. The monkeys are a real treat. And Zero is just awesome as the head of Azkadellia's guards. But the best characters is definitely the Tin Man. He's a great foil to DG. Overall, I love how the movie gives nods here and there to the original story, but puts its own spin.
Oz:
The Wonderful Wizard of Oz
The Marvelous Land of Oz
Ozma of Oz
Dorothy and the Wizard of Oz
The Road to Oz
The Emerald City of Oz
The Patchwork Girl of Oz
Tik-Tok of Oz
The Scarecrow of Oz
Rinkitink in Oz
The Lost Princess of Oz
The Tin Woodman of Oz
The Magic of Oz
Glinda of Oz