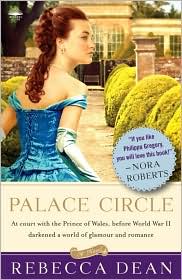 Title: Palace Circle
Author: Rebecca Dean
Publisher: Broadway 2009
Genre: Historical Fiction
Pages: 425
Rating: 3 / 5 stars
Reading Challenges: Historical Fiction; What's in a Name -- House; Mount TBR
How I Got It: I own it!
Delia Chandler, an eighteen-year-old Southern girl, marries Viscount Ivor Conisborough just before World War II, becoming part of the Windsor court. It's every girl's dream come true. But Delia is jolted from her pleasant life when she realizes, after the birth of her two daughters, that Ivor chose her only to bear an heir to his estate. Shortly thereafter, she begins an affair with her husband's handsome, titled, and frequently scandalous best friend.

When Conisborough is appointed as an adviser to King Fuad of Egypt, Delia exchanges one palace circle for another, far different one. While she sees Egypt as a place of exile, her two daughters regard Egypt as their home. Only when war comes to Cairo—and Delia finally reveals the secret she has kept for so long—can she begin to heal the divisions separating her from those she loves.
Based off of the summary, this is Delia's story. But upon reading the book, it's not just Delia's story. The book jumps narration partway through. We get sections narrated by Delia's daughter Petra, her daughter Davina, family friend Jack, and even a new aquaintance Darius. These switches created a very disjointed feel to the book. As soon as I got used to a voice, it switched. I was a bit disconcerted. My other issue with this book was that it seemed like a five book series smashed into one book. I would have happily explored each part for 300-400 pages. Instead we go from 1910s to 1940s. Too much material in too short of pages.
All of this is not to say I hated the book. I actually liked the characters. I liked the mix of fiction and historical events. I liked Dean's style of writing. I just really wanted more. More pages, more depth, more focus on big events. Just more. I will read more of Dean... Hopefully her other books won't have the same problems.