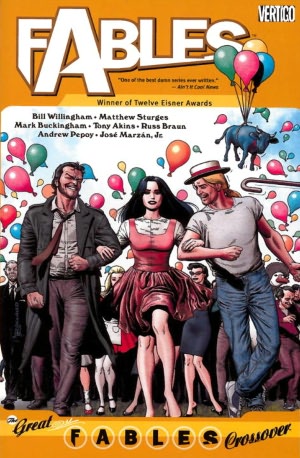 Title: Fables Vol. 13: The Great Fables Crossover
Author: Bill Willingham
Publisher: Vertigo 2010
Genre: Graphic Novel; Fantasy
Pages: 232
Rating: 5 / 5 stars
Reading Challenges: Fables Series
All nine issues of the long awaited crossover between Vertigo's two popular series Fables and Jack of Fables are collected here.The world of Fables is introduced to a whole new set of characters...The Literals. The Literals are characters that embody, literally, different literary genres such as Mystery, Comedy and Romance. One of The Literals goes by the name The Storymaker, one who can vanquish the world of Fables with one stroke of his pen.When Jack discovers the existence of The Literals and their leader Kevin Thorn aka The Storymaker, Jack must leave his own book and crossover to the world of Fables to warn Fabletown about Kevin Thorn. Does the The Storymaker plan to close the book on the Fables universe once and for all?
I loved The Literals! How could you not? Mystery, comedy, blockbuster, noir, science fiction, and especially fantasy... And come on, horror as a little girl? Perfectly creepy! The fight between the Fables/Literals/half-Fables (that would be Jack of course) was perfect fun. I loved seeing the culmination of the volumes length buildup between the Litearls and Jack and the Page Sisters and Mr. Revise and Kevin Thorne. It made for an interesting read. The only thing I didn't like: no mention of Mr. Dark. I hope we get back to that storyline in Volume 14 Witches...
P.S. Bigby as a little girl? Priceless!
Fables:
Inherit the Wind
Cubs in Toyland