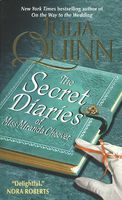 Title: The Secret Diaries of Miss Miranda Cheever (Bevelstoke #1)
Author: Julia Quinn
Publisher: Avon 2007
Genre: Historical Romance
Pages: 384
Rating: 4/5 stars
Reading Challenges: A to Z Authors: Q; Historical Fiction
How I Got It: I own it!
2 March 1810 . . . Today, I fell in love.

At the age of ten, Miranda Cheever showed no signs of Great Beauty. And even at ten, Miranda learned to accept the expectations society held for her—until the afternoon when Nigel Bevelstoke, the handsome and dashing Viscount Turner, solemnly kissed her hand and promised her that one day she would grow into herself, that one day she would be as beautiful as she already was smart. And even at ten, Miranda knew she would love him forever.

But the years that followed were as cruel to Turner as they were kind to Miranda. She is as intriguing as the viscount boldly predicted on that memorable day—while he is a lonely, bitter man, crushed by a devastating loss. But Miranda has never forgotten the truth she set down on paper all those years earlier—and she will not allow the love that is her destiny to slip lightly through her fingers . .
Not bad. I read this in one sitting, granted I was on a plane, but still one sitting. I liked the main characters, Miranda. She was tough and feisty, but still a dreamer. The male lead, Turner, was mostly likable. There were a few times throughout the book that I really wanted Miranda to smack him for his actions and speech. But overall, I thought he was a good character. I was really rooting for him by the end. The plot is fairly typical with a "will they, won't they" romance, a tragedy, steamy sex scene, and a plenty of other characters to complicate matters. I admit that I even started tearing up in the last few chapters. They really pulled at my heart-strings. But by the end, I was happy and got my fairy tale ending. Quinn writes description, exposition, and dialogue smoothly. I'm really looking forward to reading more by her.
Bevelstoke
#1 The Secret Diaries of Miss Miranda Cheever
#2 What Happens in London
#3 Ten Things I Love About You