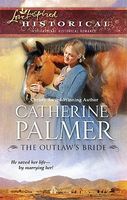 Title: The Outlaw's Bride
Author: Catherine Palmer
Publisher: Steeple Hill 2010
Genre: Christian historical romance
Pages: 277
Rating: 3/5 stars
Reading Challenges: Support Your Local Library; Summer Romance - Historical Fiction
Isobel Matas's hope of marriage to her betrothed depends on recovering her dowry from the outlaws who killed her father and stole her inheritance. But, while traveling in New Mexico territory, she witnesses a murder that changes everything. Suddenly, her own life is threatened—until she's rescued by fast-talking cowboy Noah Buchanan. Isobel's only chance for survival is to marry the rugged trail boss—who needs her to fulfill his own destiny. As the mismatched newlyweds unite against Lincoln County's tumultuous violence, Noah's deep faith challenges Isobel's quest for vengeance. And will lead them on a journey neither ever imagined.
Not a horrible romance, but definitely not one of my favorites. My main issue with this one: the main female character. Isobel Matas was just too annoying. I couldn't get over her annoying persistence for revenge to the point of danger. The male lead, Noah, was a much more endearing character. I liked him, but her, no way. And that was the problem with the book. I couldn't get overally excited about the book because I couldn't connect to the character.
Other than that, the story was fairly decent. It was more of an adventure than a straight romance and that was the part that I liked. I just couldn't get into it completely without the character connection. Really that's all I have to say about this book...