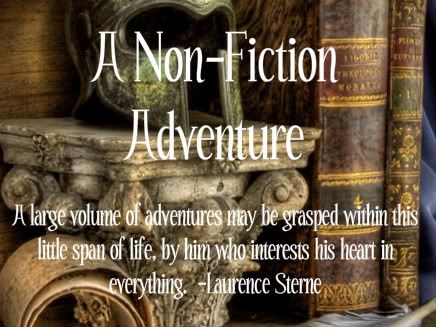 When I found The Fantasy Project, I also realized that Michelle had created a nonfiction challenge.  How did I not know about these?  I lover her seasonal readathons and general book choices.  I need to jump on this challenge also… I'm setting a goal of 100 books in 5 years, so my end date is August 2018.  I think I can manage that, and I just might go over.  I really want to read the nonfiction in my own stacks and branch out to those must reads I keep seeing.  See my list below the challenge details:
Here are the guidelines:

choose 50+ non-fiction books; the number is up to you.  Choose 50, 75, 100, 200.  It's entirely your choice
Books must be non-fiction–biography, autobiography, history, memoir, cooking, travel, science, etc.
list them at your blog (or on Goodreads or another social media site, if you do not have a blog)
choose your completion goal date five years in the future and make note of it with your list of titles (like this:  reading goal–50 books  goal dates–March 20, 2012 – March 20, 2017)
come back here and post the link to your list in the linky below
write a review (or a short summary) on the book when finished and link it to the title in your list (or link to your review on Goodreads, again, if you don't have a blog)
there will be pages posted at the top of the blog for you to link your reviews
when you have completed the challenge, come add your link to the Completed Challenges page
there will be a blog roll in the sidebar where I will list you/your blog linked to your lists
grab the button in the right sidebar and link it back to this blog
check out this PAGE which contains links to various online sources with lists of reading ideas
I might host a read-a-long from time to time.  If you are hosting one, or an event or challenge surrounding a non-fiction title, post about it at this PAGE
this challenge can be crossed over with any other challenges
your link in the linky below mustlead to your list, not just your main blog address.  Any links that are blog links only will be deleted

Updates

:

*I was asked if the list has to be made in advance.  The idea is to work toward reading non-fiction that you've been wanting to read so the list is mandatory. However, the list does not have to be set in stone. You can change out titles as the mood suits you.
My List:
The first 24 are taken directly from my Goodreads TBR shelf.  And the first 53 are those that I currently own.  The rest are suggestions and those I've been wanting to read. Notice the huge trend of history and women's studies volumes.  Can you guess what my college majors were?
Tales from the Boom Boom Room by Susan Antilla
A History of God by Karen Armstrong
The Battle for God by Karen Armstrong
The Great Transformation by Karen Armstrong
Alexander Hamilton by Richard Brookhiser
Alexander Hamilton by Ron Chernow
Living History by Hilary Rodham Clinton
What Ifs? of American History by Robert Cowley
Collapse by Jared Diamond
Where the Girls Are by Susan Douglas
Born for Liberty by Sara Evans
Longitudes and Attitudes by Thomas Friedman
The World is Flat by Thomas Friedman
The Confessions of St. Augustine
The Private World of Georgette Heyer by Joan Aiken Hodge
13 by Nathaniel Lackenmeyer
1776 by David McCullough
Founding Myths by Ray Raphael
A Great Improvisation by Stacy Schiff
The Island at the Center of the World by Russell Shorto
When God was a Woman by Merlin Stone
Assassination Vacation by Sarah Vowell
One Woman, One Vote by Marjorie Wheeler
A Vindication of the Rights of Women by Mary Wollstonescraft
The Origin of Species by Charles Darwin
The Greatest Show on Earth by Richard Dawkins
Medium Raw by Anthony Bourdain
The Audacity of Hope by Barack Obama
Bait and Switch by Barbara Ehrenreich
You Did What by Bill Fawcett
No Turning Back by Estelle Freedman
Bachelor Girl by Betty Israel
Ladies and Not So Gentle Women by Alfred Allan Lewis
Origin of Satan by Elaine Pagels
Becoming Mona Lisa by Donald Sassoon
A History of the Wife by Marilyn Yalom
What They Didn't Teach You About the Civil War by Mike Wright
The Second Sex by Simone de Beauvoir
Common Sense by Thomas Paine
Spinning Straw into Gold by Joan Gould
John Adams by James Grant
Frida by Hayden Herrera
Histories by Herodotus
Witchcraze by Anne Llewellyn Barstow
Democracy by Alexis de Tocqueville
Jesus and the Lost Goddess by Timothy Freke
Autobiography of Benjamin Franklin
Devil in the Shape of a Woman by Carol Karlsen
College Girls by Lynn Peril
Boundaries of Her Body by Deborah Rowland
Warrior Women by Jeanine Davis
Five Sisters by James Fox
The Words We Live By by Linda Monk
Catherine the Great by Robert Massie
Thunderstruck by Erik Larson
Royal Panoply: Brief Lives of the English Monarchs by Carolly Erickson
Mere Christianity by C.S. Lewis
The Joy of Books by Eric Burns
The Golden Bough by James George Frazer
On Writing by Stephen King
A Walk in the Woods by Bill Bryson
The Hero with a Thousand Faces by Joseph Campbell
The Emperor of All Maladies by Siddhartha Mukherjee
The Wordy Shipmates by Sarah Vowell
Fear and Loathing in Las Vegas by Hunter S Thompson
Washington by Ron Chernow
American Lion by Jon Meacham
Woodrow Wilson by John Milton Cooper
The Girls of Atomic City by Denise Kiernan
Traitor to His Class by H.W. Brands
Truman by David McCullough
Will in the World by Stephen Greenblatt
The Shallows by Nicholas Carr
In the Footsteps of Alexander by Michael Wood
The Map that Changed the World by Simon Winchester
She-Wolves by Helen Castor
The Vanished Library by Luciano Canfora
(the rest is TBD)